ProServe® Service Solutions provides you with our premier quality, ISO 13485 compliant servicing options for the wide range of products your hospital or equipment service have on-site. They will be cared for by our team of highly skilled engineers that are trained to ensure they are qualified to the required quality and regulatory standards we demand.
DHG offers a range of technical service packages designed to suit the needs of our customers in today's ever changing healthcare environment.
We provide technical support from our fully equipped Service Depots at our UK headquarters in Caerphilly (near Cardiff), Wrexham, Basildon, Braintree, Southampton, Newton Aycliffe and Castleford. DHG also perform specialist customer training from these depots.
For customers with our ProServe® Sustain, ProServe® Active and ProServe® Active Plus packages, our field-based team of MIA accredited Service Engineers offer a wide range of services from training your teams through to complete on-site delivery of your servicing, repairs and preventative maintenance requirements. Fully supported by our Technical Service department in Caerphilly, we can provide the assurance of efficient, high quality support and solutions to minimise downtime.
Click here to view our ProServe® brochure.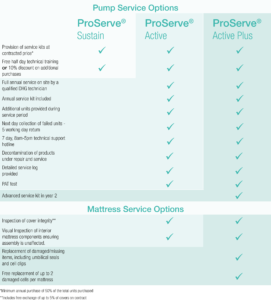 Decontamination Solutions
DHG offer a thorough decontamination service that delivers outstanding results, whilst reducing energy consumption, eliminating the use of harsh bleaching agents and keeping patients and caregivers safe. DHG's decontamination service incorporates innovative and highly effective
Ozone technology combined with TECcare and EcoStatic processing, an environmentally friendly alternative to traditional laundry processes. Ozone technology works at low or ambient temperatures, using oxygen-rich water to disinfect and destroy 99.99% of harmful micro-organisms, such as MRSA, E. coli, C. difficile spores and Coronavirus.